What separates one Milwaukee dog fence company from the other? Experience in Dog Training
What separates one dog trainer from the other?
Theory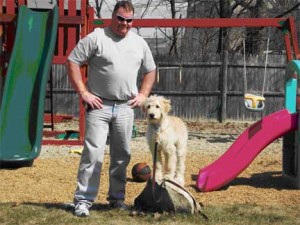 My whole life I have owned and been around dogs. I have seen all the extremes of dog training from "rub its nose in it" to "fill its belly with treats to get a response".  Both of which are out of date and a temporary means to an end.  The first of extremes or "rub its nose in it" (which by the way leads to consuming of said material) leads to skittish, aggressive dogs lacking confidence.  The second theory or "fill its belly with treats" is only a temporary fix to get the dog to do what you want him to do.  Remember the dog is only doing what you want him to do to get the treat.  A lot of dogs are only responsive for part of the class because they are full of treats.  The dog is not responding because it is not obedient or has "respect" for its owner. Do not confuse friendship or love with obedience or respect.
Contain-A-Pet dealers (including myself) are certified dog trainers.  Not just trained by Contain-A-Pet to properly install the pet fence, but trained and certified by an independent master trainer.  I was trained in Boston by nationally well known and acclaimed master trainer, Mark Macrae.  I feel my philosophy and theory on training is the most up to date and second to none. The theory of dog training is based on respect and balance, with the basis on positive motivation.
From step one the dog is conditioned to work with the handler as a team. Your dog should be excited to train or "go to work" for you.  Remember, dogs were breed to "work" for their handlers.  Regardless of what you do for training your dog will work.  The difference is will your dog work for you or against you?
Contain-A-Pet of Milwaukee  does not believe in a  high pressure sales environment. I want you  informed as possible when making such an important decision about your pets safety and well being. After all isn't that the reasons you are considering this type of Milwaukee Dog Fence.
If you or someone you know is in need of a Milwaukee dog fence or dog training in the greater Milwaukee area please give Craig a call. Your pet will be grateful you did!!
Call Today for a free consultation 414-416-1683
Proudly Serving
Delafield, Waudesha,  Wales, Pewaukee, New Berlin, Sussex,  Muskego, Oconomowoc, Menomonee Falls, Brown Deer, Glendale, River Hills, Bayside, Greenfield, Greendale, Wausatosa, West Milwaukee, South Milwaukee, Oak Creek, Franklin, West Allis, Lac La Belle, Chenequa, Nashotah, Hartland, Merton, Dousman, Genesse Depot, Muckwongo, Caledonia.